Master PLR Review – Quality PLR Written by the Owners
Presented By Niche Assist
Like any other PLR supplier, Master PLR has been in the business for more than 5 years. The founders, Mr. Geoff and Mrs. Susan O'Dea, started their online careers in 2007 and have vast experience in online business.
Through the years, the couple has experienced, adapted and survived the innovative changes of online marketing which has helped enhance their knowledge and skills on how to make money online. Since the couple wants to help their peers earn big in the online industry, Master PLR was created and it guarantees their clients that they will get the highest PLR quality of contents they could find.
The company has a very high standard when it comes to quality. All the articles ordered from them are written by the owners themselves and their highly skilled writing team. If it happens that the articles are not written by them, their editors will edit it and they themselves will check it again.
Advantages
PLR articles offered are in demand
The different products that the company are selling are topics that will usually take a person's time to research and write. They have positioned their products to the extent that the entrepreneur would rather spend money and buy their PLR articles than to write it themselves.
Their packages are cheap
Master PLR's average prices of their products ranges from $17- 24 USD. With a package of 10 articles, a 10-20 tweets and bonus freebies, is relatively very cheap and competitive with other PLR companies.
Owner hands on
The owners of Master PLR emphasized in their sales pitch that they will do the work themselves which is a guarantee to any online entrepreneurs that their PLR packages are of high quality since they do not want any bad feedbacks from clients and we all know that owners who do the work themselves, really care about their business.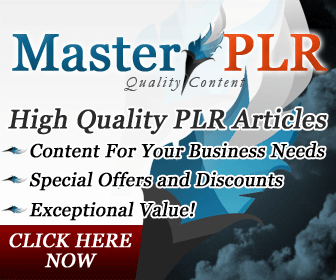 Disadvantages
Articles are 500 -600 word count only
In the world of online marketing, content writing has more quality if it is written above 700 words. However, since the articles that they are selling are hard topics, their PLR articles are still worth buying.
No guarantee of SEO page rank
Since their articles have already titles and most of the PLR's are designed for eBooks, you still have to do the key word researching in order for your website to rank high on the different search engines.
Products Offered
The company offers different products and services that could be of use to any online marketer, including:
Depression PLR pack
Anxiety PLR Mega Pack
Weight loss Mega PLR
Hunger Hormones PLR
EFT Tapping PLR Mega Pack
Asthma PLR article pack
Allergies PLR pack
Diabetes PLR mega pack
Colon Cleansing articles
Click Here to go to Master PLR
Among the 9 products they offer, one of the most unique and considerably fast-selling is the "Hunger Hormones PLR". Not many online entrepreneurs want to research and write about Hunger hormones. The article is so technical and it takes time for people to research and write it themselves. But for just $17, Master PLR offers their clients 10 well-written articles under Hunger Hormones;
Understanding Hunger Hormones (501wc)
What Is Leptin? (546wc)
What Is Ghrelin? (503wc)
Fixing Your Leptin Levels (537wc)
Fight Hunger Hormones with Appetite Suppressing Foods (615wc)
Keeping Your Ghrelin Levels in Check (536wc)
Leptin Hormone and Weight Loss (574wc)
Hunger Hormones and Your Metabolism (630wc)
How Leptin is Connected To Insulin (505wc)
Leptin and Obesity (524wc)
People who are into the weight loss business should avail themselves of such a package because they will lose more time and money if they research and write articles themselves.
Other Features
Master PLR is also equipped with the following tools that can help research for niche markets, email platforms, web hosting, and get organized:
Amember
Aweber
GetResponse
Web Hosting
Website Design
Roboform
Facebook Advertising
eBook Covers
CoachGlue
PLR me
PLR Mini Mart
Buy Health PLR
Internet Slayers
Presell Crusher
Master PLR also offers a PLR request column for their clients who want to make use of their special services or order articles that they currently don't offer on their website. According to their site they offer infographics. I didn't see any specific such offerings, but assume either they are included in some of the packages or will be available soon.
Conclusion
Overall, what makes Master PLR so great is that their website is very user friendly and you won't get lost finding their products. Also because the owners themselves are writing their own PLR, more care than normal may be put into their products since their reputation could be ruined if their products were not of the highest quality. If you want a sample to see the quality of their PLR offerings they also offer a free PLR pack.
Click Here to go to Master PLR

Disclosure: Some of the links in this post are "affiliate links." This means if you click on the link and purchase the item, I will receive an affiliate commission.