BusinessContentPLR Review – Business Training Content
BusinessContentPLR is now Contentsparks
By Travel Quiz Weekly editor, Charles L Harmon
Sharyn Sheldon is the brains behind a business centered public label rights store that draws on her 20 years of consultancy work for major corporations. She learned the power and money-saving impact that PLR delivers when she was looking for ways to rapidly build a few niche sites when she first started out in 2009. She now delivers the versatility, speed and low cost business solutions that her wide range of PLR formats and products offers through the Business Content PLR website.
Topics are basically business-centered, and range from affiliate marketing to mobile marketing, self-improvement to coaching and all areas in between.
A few things we really liked during this review were the "Recently Viewed Products" and "Top Rated Products" sections on the right-hand sidebar of every page. This gives you quick reference to 2 very helpful and self-explanatory sections of the site.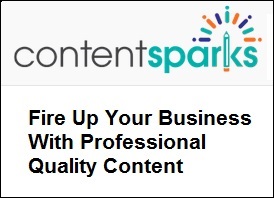 One type of product offered is located in the Ready-to-Go Training area of the website. Priced from $27 – $97, these are White Label packages of training information, which can include an opt-in gift, slides and other teaching materials, a workbook, a course book, sales pages, squeeze pages, promotional e-mails, blog posts, tweets, videos and more.
Referral Marketing Machine
For example, The Referral Marketing Machine training package allows you to build a webinar series, classroom workshop for self-study course. You can also use the information to build a video training program or a fully functional membership site area.
Components include:
   Introduction and 7 step referral marketing plan
   Leader and Participants course workbook and worksheets
   Referral letter templates
   Editable infographics
   PowerPoint slide presentation with accompanying speaker notes
   Follow-up e-mail package
   Opt-in gift with fully integrated sales page and opt-in page
   2-dimensional and 3D e-covers and bonus report
This is a very unique package which literally delivers a versatile "business in a box" solution with Public Label Rights.
Click Here to go to BusinessContentPLR
Here are the topics they produce PLR for:
Traffic generation PLR
Coaching PLR
Making money online PLR
Marketing PLR
Self-improvement PLR
Social media PLR
Business PLR
Affiliate marketing PLR new content, content marketing PLR new content, off-line marketing PLR
The products at BusinessContentPLR are delivered in several formats, including:
articles
infographics
e-courses
reports
tutorials
diverse multimedia packages
Freebies and gifts they offer:
Business Content PLR offers a free and in-depth Public Label Rights Resources section where Sharyn reveals the free and paid tools she uses to run her business. In return for your e-mail address, you receive a $97 package entitled 30 Ways to Use Ready-to-Go Training Programs to Build Your Business.
This is a 7 part e-mail training series, which teaches you how to use PLR content to achieve all your business goals. Included are seven models of video training, and in-depth PDF report, infographics GG for quick reference and a personally use sample of one of the Ready-to-Go Training programs sold on the site.
Here are some examples of the PLR titles they offer:
10 Days of List Building Madness – Ready-to-Go Training Program
How to Become a Social Media Consultant – Internet Marketing PLR Articles
Simple Podcasting Secrets – Marketing PLR E-course
Boost Your Blog Income – Marketing PLR Infographics
Getting Started with Skype – Business PLR Reports Package
Who this PLR is perfect for:
If you are starting or managing a business of just about any type, a teaching, coaching, or profit-building PLR package is available here to help you get more done in less time. From standard reports, tutorials and articles to complete multimedia-rich white label training packages, the public label rights packages run from $6 to $97, and all deliver great value.
We recommend this PLR seller for unique business, marketing, social media, coaching and moneymaking combinations that were built by a major corporate consultant with more than 20 years of experience. While there are typical PLR articles available, the real value on the Business Content PLR website will be found in the Ecourses, training programs and reports, as well as the free $97 business building training package you receive when you sign up for the Business Content PLR e-mail newsletter.
Click Here to go to BusinessContentPLR
"Disclosure: Some of the links in this post are "affiliate links." This means if you click on the link and purchase the item, I will receive an affiliate commission."