PLR vs. Ghostwriting: Which is Better?
By Nicole Dean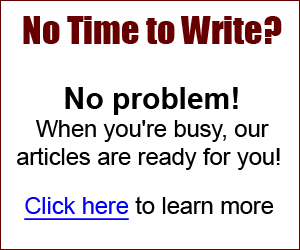 Private Label Rights (PLR) articles and ghostwritten articles are both options when you need web content. Each is unique in its qualities and each has its drawbacks.
So, when you need content, which should you choose? Let's analyze both options to find out which option is right for you.
Ghostwritten Articles
Ghostwritten articles are written just for your use. You own the article and can do whatever you'd like to with it.
Pros:
1. The article is unique to you and you do not share the content with anyone else.
Cons:
1. Ghostwritten articles are quite a bit more expensive per article than PLR packages.
2. You have the responsibility of finding a good writer.
3. The quality can be questionable.
4. You need to check your articles to make sure your ghostwriter isn't stealing content. Unfortunately that does happen.
PLR Articles
PLR articles are pre-written articles that are sold in packages, or as part of a monthly membership.
Pros:
1. PLR articles are much more affordable than ghostwritten ones.
2. The content is ready, so you don't have to wait for a ghostwriter to become available or find a ghostwriter who is available.
Cons:
1. The content is not unique. You share the articles with the other people who purchased the package or membership.
2. You can't submit the PLR articles to article directories.
3. The quality can be questionable.
4. You have to find PLR packages in your niche – or hope that the membership you signed up for sends you ones that you can use.
How can you even the odds between the two? Find a quality PLR service that allows you choose your topics. If the articles are well written, and their distribution is limited, it's almost as good as getting ghostwritten content just for you. That way, you get the best of both worlds – quality content at a great price.
About the Author
Nicole Dean is the owner of EasyPLR.com – where you'll find high-quality PLR articles sold in very limited quantities. The PLR articles at EasyPLR are professionally written and professionally edited — top quality at an affordable price.
Disclosure: Some of the links in this post are "affiliate links." This means if you click on the link and purchase the item, I will receive an affiliate commission.