EasyPLR Review – Reviewing A Well Established PLR Source
By web copywriter Patrick Brian O'Neill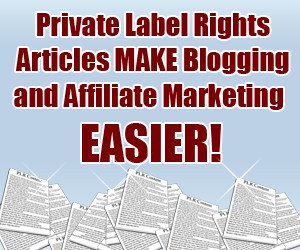 This is an EasyPLR review of a site that you probably have visited if you have ever used PLR. EasyPLR has been creating fresh, unique public label rights content since back in 2006. Nicole Dean is the creative brains behind this easy to use, simply laid-out site, and her business motto is "Making the Web and the World a Better Place since 2004." The company focuses on "buy what you need" content as opposed to memberships, so that "you choose only the content you need", in the words of the owner.
PLR topics include health, business, financial and debt, food, technology, holidays, travel and network marketing. One of the unique propositions you benefit from if you choose this particular PLR provider is the way they vet their content before publishing it.
Every public label rights piece that is added to the site is proofread, edited, and spell checked by 2 professional writers before you ever see it. The primary writer / editor creates the original piece of content. Then a second writer and editor works over the particular package, tweaking it and adding more value and information.
EasyPLR focuses primarily on article content, which you then are licensed to combine, add to, edit and change for your particular area of expertise. In most cases, limited quantities of the PLR content offered will be sold. This keeps your content fresh.
One example in the Living Green PLR section of the site is a 5 article package entitled Smoothie Revolution of which only 150 copies will ever be sold (currently only 6 copies remain).
Titles include:
3 Ways Drinking Smoothies Can Help You Lose Weight
5 Health Benefits Of Smoothies
5 Smoothie Recipes For Beginners
Explore Blender Options For Making Smoothies
How To Make A Smoothie In 4 Easy Steps
Here are the topics they produce PLR for:
Health and fitness
House and home
Living green
Tech
Holidays
Travel
Internet marketing
Real estate
Finances and debt
Food and related subjects
Family themes
Network marketing
Self-improvement
Success
Their PLR comes in article format. While many companies offer several different types of PLR content, EasyPLR.com focuses on creating quality articles offered in limited quantities. This gives you the flexibility to combine, edit or add to the specific niche PLR articles you purchase.
Freebies and gifts they offer:
For beginners and veterans to public label rights content, you can join the company's e-mail newsletter to receive initial offerings and alerts on new PLR packs before they are released to the public. You also benefit from a free "How to Use PLR" e-course and "PLR for Bloggers: How to Make Blogging More Fun and Profitable" report absolutely free of charge.
Here are some examples of the PLR titles you will find:
Moving on the Cheap – Real Estate PLR
Creative Savings and Budgeting Ideas – Personal Finance PLR
Smoothie Revolution – Living Green PLR
Save Your Marriage, A Special Report for Women – Health PLR
10 Habits of Highly Successful People – Success PLR
Who this PLR is perfect for:
Aside from the free e-course which tells you exactly how to use PLR, as well as the free PLR for Bloggers report, EasyPLR.com is also recommended for a few very important reasons.
Since the content purchased here is reviewed by two professional writers before it is listed, you get extremely good quality considering some of the dreck that is sold as PLR these days.
You also benefit from the fact that the company limits the number of pieces sold per article. One other enjoyable experience we found when reviewing this site is a total lack of pop-up ads, banners and other bothersome distractions. The site is laid out in a very simple and easy to use manner, and prices run from around $5 to $19.75, depending on the amount of articles in each package.
It is our belief after this EasyPLR review that EasyPLR.com deserves a look for any website or blog owner that appreciates professionally edited and limited edition public label rights content at a very attractive price.

"Disclosure: Some of the links in this post are "affiliate links." This means if you click on the link and purchase the item, I will receive an affiliate commission."